We lend to clients and businesses with bad credit, liens, judgements, defualts, and bankruptcies becuase we focus on income.

D&B GROUP can secure larger amounts of capital then most banks because we are privately owned.

Our financial experience combined is over 100 years. We have created 8 new programs to fund our customers.

We fund all industries and businesses becuase we have 75 in-house private lenders. Each lender has one or more primary funding industry.
Business Loan
Alternative Funding
Personal Loan
Equipment Leasing
Collateral Based Loan
Project Funding
Term Loan
Commercial Loan
Residential Loan
Merchant Cash Advance
Credit Card Processing
Loan To Value
Business Funding
Real Estate
Equity Loan
Hard Money Loan
Consulting
Bridge Loan 
Easy Process
Financing
SBA
D&B GROUP can get you the most amount of capital then any other lending source because we are a private bank and we have over 75 in-house lenders so we can fund a wide range of unique business deals and lend larger amounts of money. When we fund you, we make sure that it is the most amount of money, best term, best payback, and fixed rate that is going to help you produce immediate return.
We are one of the largest funding groups because we have a diverse group of lenders whom fund businesses and projects in all industries. If we cant get you the best possible deal no one can! We can fund all types of deals because we have over 75 in-house lenders. ​
If you need money for inventory, cash flow, expansion or advertising; We can help. We offer funding to all businesses-big or small. If you own a business with a consistent daily revenue stream you will likely qualify for one of our 25 plus funding solutions. It's tough for businesses to get the cash they need from the banks. According to the Wall Street Journal, an estimated 65% of banks have tightened their standards on loans to businesses. But you have a business to run and you need money now. So, what are you going to do? For businesses with a consistent daily revenue stream, we offer quick-access to funding, loans, financing, and cash advances. With a high approval rate, you'll get the money you need right away. Our lending process is quick and without the hassle of a bank loan. Bad credit Isn't a challenge, while traditional lenders may decline businesses for a less-than-perfect credit scores, we believe that businesses with a consistent daily revenue stream have untapped borrowing potential. We can help companies that may have been considered too risky by traditional lenders qualify for funding by extending business credit loans and cash advances based on their ability to pay versus a credit score that may be more reflective of the current economic environment than the value of their business.
Up to $20,000,000
Bad Credit Ok
​Build your Credit

 
Unsecured Loans

 
Immediate​ Funding

 
Short Term Loan
Working Capital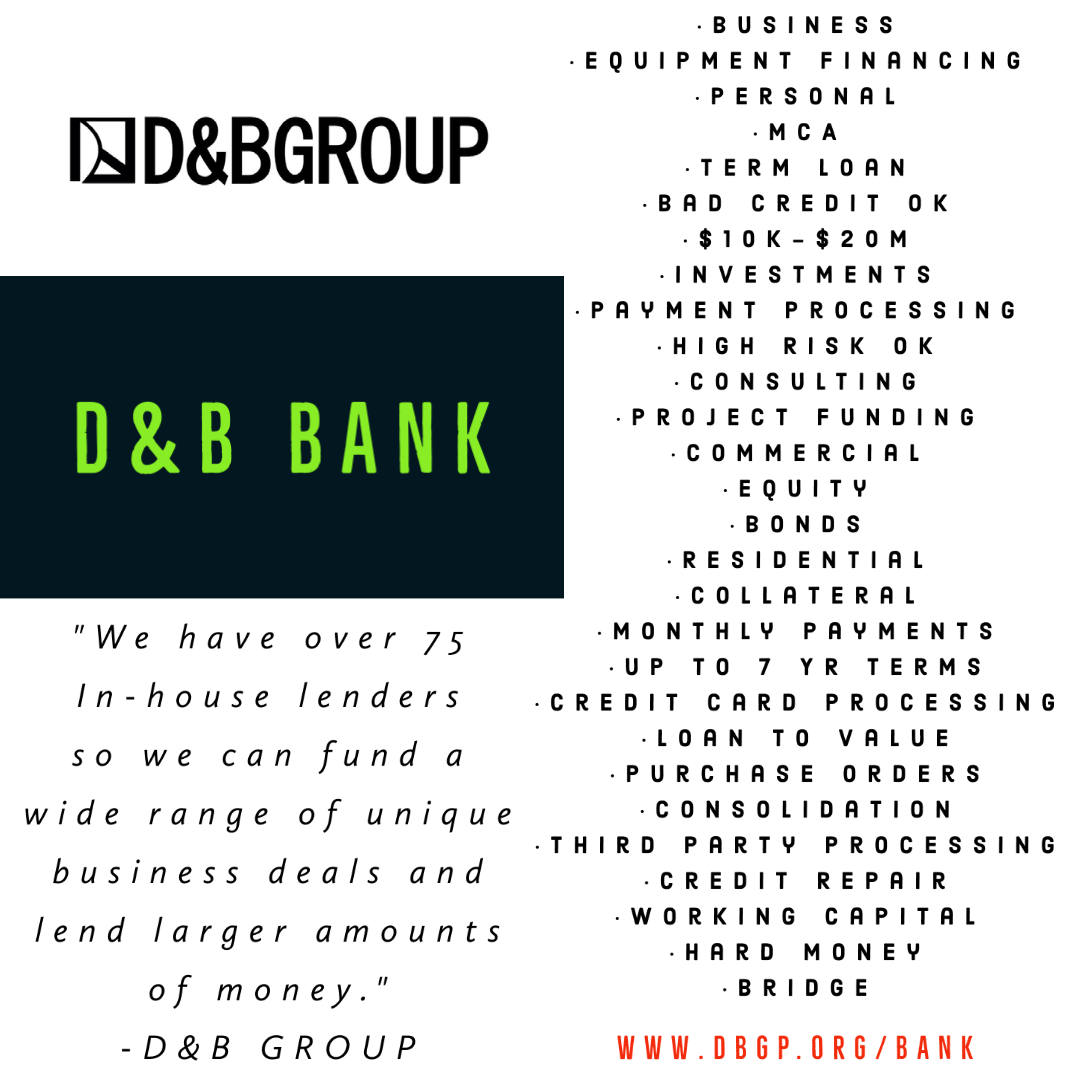 Fixed Rates
​Equity Loans
Long Term Loans
24 HR Funding
Private Investors
Easy Approvals
Term Loans
  We service all industries; High risk and low risk. We have created the very best high risk programs using 100% block chain integrated ledger technology. This instantly verifies the funds and settles every transaction; giving you instant access to the money from the transaction.The fear of charge backs are now gone because the customers bank account is instantly verified by this U.S. patented block chain system processing technology. This technology works seamlessly with all payment systems; So you can take credit cards on-line, in person, or over-the-phone.
-CHARGE BACKS-
Any merchant that handles credit card transactions are faced with charge backs. Charge backs are triggered when a customer reverses an order due to a legitimate complaint, such as not receiving an item as it was marketed, or because they changed their minds about purchases. No matter what the reasons, excessive charge backs are bad for business. When merchants rack up excessive charge backs, it not only cuts into their bottom lines, it puts their merchant accounts in jeopardy. High-risk merchants especially must be mindful of charge backs. Businesses that can't keep charge back ratios below 2% can have their accounts terminated by processors.
-D&B PROTECTION-
We use a block chain system to time stamp all records of each transaction which is managed by a peer-to-peer network to validate all transactions and it also eliminates all charge backs. We have also partnered with Verifi and their new Cardholder Dispute Resolution Network (CDRN), as well as Ethoca's alert system. By partnering with these companies and card issuers, chargebacks are a think of the past. We are giving merchants direct control over resolving credit transaction disputes. By offering both chargeback resolution networks, allowing them to achieve the highest rate of chargeback resolution.
-MERCHANT ACCOUNTS-
In addition to offering dependable, affordable, and secure credit card processing, D&B offers ACH processing, secure payment gateways, integrated fraud protection and chargeback mitigation programs. Merchants that want to safely and responsibly process credit card payments must turn to a credit card processor, like D&B PROCESSING for merchant account services. Retail, mail order/telephone order (MOTO), internet, and accounts for high risk-businesses are just some of the merchant account services offered by D&B.
-CHECK PROCESSING-
D&B offers personalized payment solutions that allow new and established merchants to succeed. Electronic check processing service applications are approved in 24 to 48 hours. Once approved, We can set up a payment gateway and fraud filters.
Also, merchants can see funds from check sales immediately when they use iCheck, the electronic check processing service offered by D&B PROCESSING.
-PAYMENT GATEWAYS-
A business that works with little or no face-to-face transactions and relies heavily on credit and debit card payments must have a reliable high-risk payment gateway. D&B not only helps high-risk merchants in many industries, it allows merchants to choose their processors. Not every payment gateway works for every merchant, so D&B offers options. Debt consolidation businesses, which often charge customers on a revolving basis, will want payment gateways that handle recurring billing. However, a dispensary may better suited with a gateway that accepts mobile payments.
-PRICING-
We will always have the lowest rates because we offer competitive pricing. We can do this because of our industry insight via community partners. Our price is based on the industry's lowest average rate. So that means the price we give you as a quote is going to be the best price for a complete payment
processing service.
·FREE Account Set-Up
·FREE Gateway Set-Up
·Low Rates & Fast Approvals
·98% Approval Rating
·No Application or Set-Up Fees
 We have developed several innovative equipment finance programs that will enable your company to realize maximum return from your equipment investment.
Our primary market is income producing or cost saving equipment ranging from $10,000 to $20,000,000 in price. For equipment cost under $350,000 we offer a simple one-page application. Finance terms range from one to seven years. Our creativity and flexibility allows us to offer special features which include delayed first payments, seasonal payments, split payments or uneven payments designed to meet the cash flow requirements of your company. We also finance "soft costs" and offer "software only" programs.
We offer not only equipment knowledge and superior service, but also a direct source of funding with in-house expertise that allows us to offer the most cost-effective financing, no matter how large or small, to meet your company's needs.
We understand the characteristics and subtleties of financing businesses like yours. We monitor the changes in your industry so you can be completely confident that we will structure a transaction to meet your needs. Our desire is to participate in the growth of your company by providing a direct source of financing now and in future years.
EXPRESS LEASE
Our Express Lease sets the standard as the industry's fastest, most flexible source of lease funding for small-ticket equipment.
-Credit from $10,000 to $350,000 without financial statements.
-Straightforward credit policies.
-Competitive rates.
-Flexible payment programs.
-Express Lease can accommodate a wide variety of equipment types, as well as various lease terms, payment plans and end-of-lease options.
For example, a four-hour credit decision is available on Express Lease transactions with no bank or trade information required. And with our Express Plus service, you may qualify to receive automatic approval for additional credit that can be used immediately to acquire one or multiple pieces of equipment.
In addition, specific programs are available to customers in specialized industries, as well as state, county and local municipalities. In lease financing there are no "one-size-fits-all" solutions, and so we will tailor our programs to your unique situation.
REQUIREMENTS:
$10,000-$350,000
Application:Completed
Equipment Justification:Brief explanation for purchase of new equipment, i.e. monthly revenues to be earned or expenses saved.
COMMERCIAL LEASE
Our Commercial Lease product allows you to get the major equipment you need to achieve competitive dominance, without a significant out-of-pocket expenditure.
-Credit from $350,000 to $20,000,000 for equipment.
-Competitive pricing.
-Flexibility in submission and funding.
Our Commercial Lease can help you solve the most complicated equipment acquisition problems with a variety of lease terms, payment plans and end-of-lease options. With our open-minded approach, we look at all the alternatives and take into account not just financial statements but write-ups requested with commercial submissions.
From credit decisions and funding to administration of your lease, we're organized to deliver quick response and superior service, including expert advice on terms and structuring. We want to make sure our lease works to your advantage, building competitive power and profits – fast.
REQUIREMENTS:
$350,000-$20,000,000
Application:Completed
Tax Returns:Last 2 years for Business
Last 2 years for Principal(s)
Bank Statements:Last 2 years for Business
Personal Financial Statement for Principal(s)
Equipment Justification:Brief explanation for purchase of new equipment, i.e.: monthly revenues to be earned or expenses save
FRANCHISE FINANCING
We finance all types of franchise purchases. If you need cash quickly to cover payroll or other expenses, we can provide fast, flexible short-term business loans, with credit decisions as quick as two hours. Whether you are a franchisee or a franchiser, our financing can help your business succeed.
With more than 25 years of franchise financing experience, we know how to help franchisees grow their business. If you are purchasing new furniture, fixtures and equipment (FF&E), starting the re-imaging process, or launching a property improvement program (PIP), we can help. Our financing programs are available to finance these and more:
-POS Systems
-Furniture and Fixtures
-Industry Equipment
-Signage and Canopies
-IT hardware and Software
-Expansions and Acquisitions
-Remodels and Re-imaging
-Leasehold Improvements
-New and Used Equipment
-Technology Acquisitions and More
-Credit Lines
What is a Merchant Cash Advance?
A merchant cash advance is not technically a loan. With an MCA, We advance you cash in exchange for a percentage of your daily credit card and debit card sales, plus a fee. Merchant cash advances can be quick, easy ways to get a business cash advance with no need for collateral—even if you don't have a great
credit score.
·Quick access to funds
·Easy approval process
·Bad credit is accepted
·Suitable for a wide range of business purposes
Would your business be eligible for a merchant cash advance?
If you have little or no collateral, limited business history, or a low credit rating, merchant cash advances could be a solution to your financing problems.
Merchant cash advance providers tend to have easy eligibility standards, so most small businesses shouldn't have a problem qualifying.
Plus…
For businesses that make a big portion of their revenue through credit card payments—if you own a restaurant or a retail store, for example—then you can use a merchant cash advance as a short-term financing tool. It can help with working capital, inventory purchases, debt payments, unexpected payments, and more.
How Do You Apply For A Merchant Cash Advance?
Applying to a merchant cash advance is a fast and easy process. Because merchant cash advances are paid back with your daily credit card sales, We will look at your credit card processing statements to make sure you have enough volume coming into the business. In some cases will ask for your credit score and bank statements, too.
Merchant cash advance applications can be approved the same day you apply. A merchant cash advance application is fast and easy.
REQUIRED DOCUMENTS:
Driver's License
Voided Business Check
Bank Statements
Credit Score
Business Tax Returns
Credit Card Processing Statements