Business Loan
Alternative Funding
Investments
Personal Loan
Collateral Based Loan
Project Funding
Commercial Loan
Residential Loan
Credit Card Processing
Loan To Value 
High Risk Processing
Credit Repair
Equity Loan
Hard Money Loan
Consulting
Bridge Loan 
Consolidation
Rebate Funding

Up to 2,000,000,000
Bad Credit Ok​
​Build your Credit
Unsecured Loans
Immediate​ Funding
Short Term Loans
Long Term Loans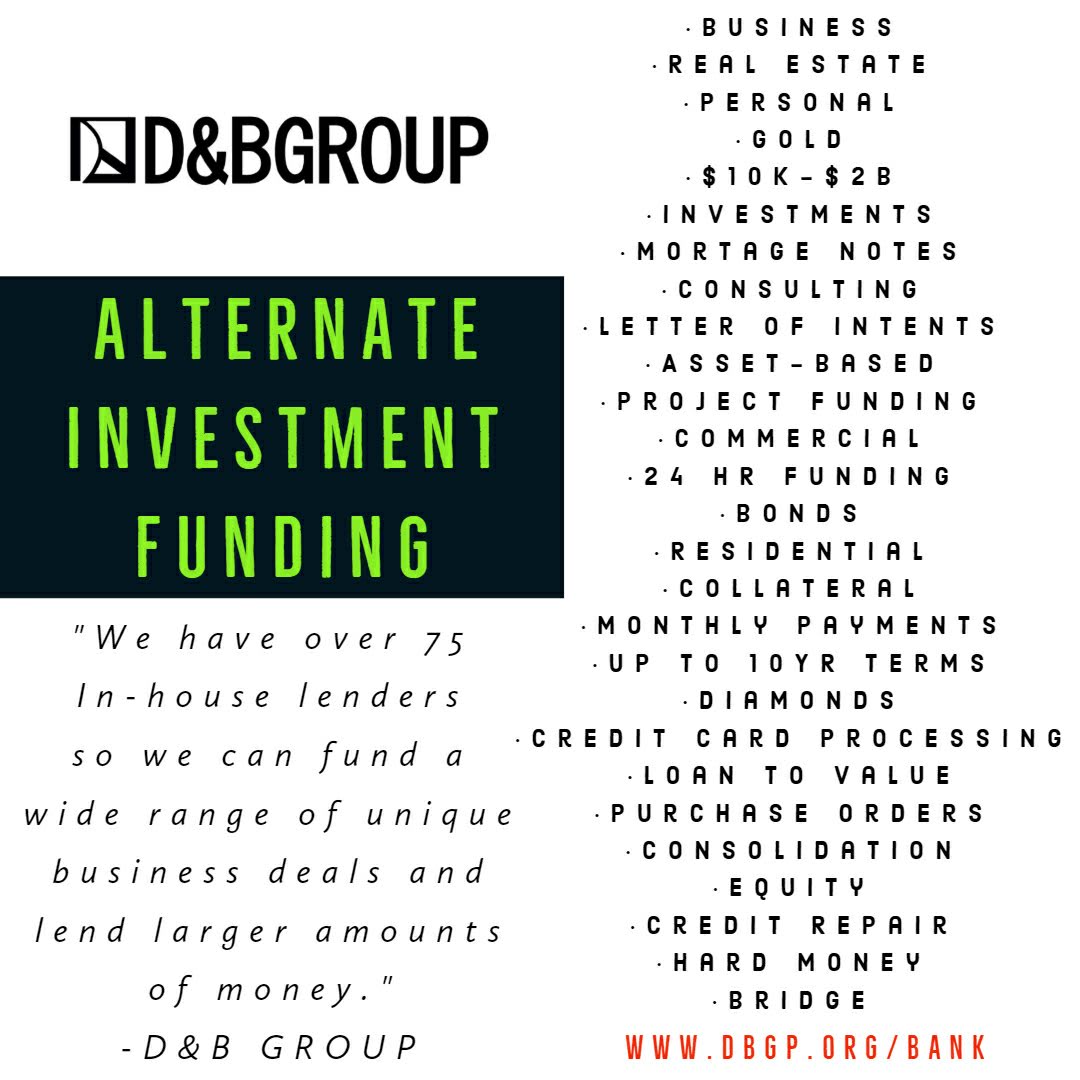 Fixed Rates
​Equity Loans
MCA
24 HR Funding
Private Investors
Easy Approvals
Term Loans
ALTERNATE INVESTMENT FUNDING
D&B GROUP can get you the most amount of capital then any other lending source because we are a private bank and we have over 75 in-house lenders so we can fund a wide range of unique business deals and lend larger amounts of money. 
When we fund you, we make sure that it is the most amount of money, best term, best payback, and fixed rate that is going to help you produce immediate return . 
We are one of the largest funding groups because we have a diverse group of lenders whom fund businesses and projects in all industries.
If we cant get you the best possible deal no one can! We can fund all types of deals because we have over 75 in-house lenders.
"Funding is based solely on the business credit…So if you have good business credit…Your as good as funded"
-$20,000-$100,000
-5 year term
-Monthly payments-first payment is not due for more than 1 month
-No confession of judgment required ever
-No personal guarantee needed
-No upfront fees or upfront costs ever
-Payments are fully TAX DEDUCTIBLE under the United States IRS code section 179, cutting costs to between 19%-24% peryear (notAPR)
-No pre-payment penalty if paid off early
-No personal credit check needed, only the business's validity and credit ratings with
Dun & Bradstreet and PayNet are used in underwriting
-The whole process takes 7-10 business days from start to finish
-This does not count as a cash advance position & will not interfere with renewing a cash advance or any consolidation or SBA loan. Zero dollar amount UCC filed
-No bank statements needed. Merchant only signs a simple electronic agreement once approved & a generic application to get approved
-Approvals are NEVER rescinded and are typically given within 1-2 business days​
HOW IT WORKS:
We have a network of equipment dealers (vendors), who provide substantial cash rebates back to business owners like you and they can use it for WORKING CAPITAL with No RESTRICTIONS on what they can do with the money.
Our vendors buy brand new overstocked business equipment, from other business equipement dealers at significantly discounted prices. This equipment is very difficult to sell and has been shelved for several months so ourvendors get great deals on it.
Our vendors then sell business owners like you the equipment at full market value and rebate back half of the sale price to you as an incentive for buying the equipment, much the same way as car manufacturers and dealers offer rebate incentives to vehicle buyers.
The equipment can be looked upon as simply a tool that is used to obtain WORKING CAPITAL, and the only obligation for you is to keep it at the business premises until paid off.
QUALIFICATIONS:
4 Years in business ·No lawsuits on business
·No Judgements on business
·No bankruptcies
·No Tax liens over 10K that are
not on a payment plan
·No defaults
·Active business in good
standing with secretary of state
·Must have a commercial
location that can be found
·No home based businesses
"Funding is based solely on the business credit…So if you have good business credit…Your as good as funded"
For any questions or concerns; please submit form below
What is a Merchant Cash Advance?
A merchant cash advance is not technically a loan. With an MCA, We advance you cash in exchange for a percentage of your daily credit card and debit card sales, plus a fee. Merchant cash advances can be quick, easy ways to get a business cash advance with no need for collateral—even if you don't have a great
credit score.
·Quick access to funds
·Easy approval process
·Bad credit is accepted
·Suitable for a wide range of business purposes
Would your business be eligible for a merchant cash advance?
If you have little or no collateral, limited business history, or a low credit rating, merchant cash advances could be a solution to your financing problems.
Merchant cash advance providers tend to have easy eligibility standards, so most small businesses shouldn't have a problem qualifying.
Plus…
For businesses that make a big portion of their revenue through credit card payments—if you own a restaurant or a retail store, for example—then you can use a merchant cash advance as a short-term financing tool. It can help with working capital, inventory purchases, debt payments, unexpected payments, and more.
How Do You Apply For A  Merchant Cash Advance?
Applying to a merchant cash advance is a fast and easy process. Because merchant cash advances are paid back with your daily credit card sales, We will look at your credit card processing statements to make sure you have enough volume coming into the business. In some cases will ask for your credit score and bank statements, too.
Merchant cash advance applications can be approved the same day you apply. A merchant cash advance application is fast and easy.
Documents you need:
Driver's License
Voided Business Check
Bank Statements
Credit Score
Business Tax Returns
Credit Card Processing Statements

The D&B team has over 6 years of market research experience, 15 years of field experience, 8 years of social statistics data research, 25 years of finance experience, and 10 years of creative design experience. We have a very unconventional business structure that has allowed us to create exclusive partnerships with over 75 financial institutions, the federal government, 11 Fortune 500 companies, 6 industry logistic technicians, 4 commercial manufacturing & distribution providers, artists, financiers, socialists, engineers, educators, musicians, scientists, writers and investors.